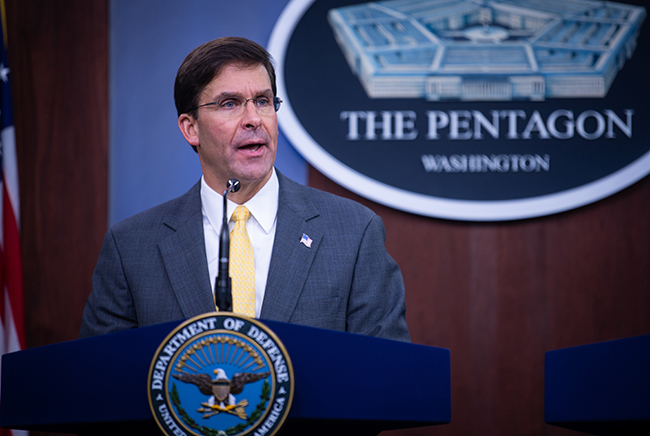 Defense Secretary Mark Esper speaks to members of the press during his first joint press conference with Chairman of the Joint Chief of Staff Marine Gen. Joseph Dunford at the Pentagon on Aug. 28, 2019. Defense Department photo by Army SSgt. Nicole Mejia.
Defense Secretary Mark Esper made his Pentagon press briefing debut on Aug. 28, speaking to a packed room about the changes he is directing in the department and his focus on renewing the military's interaction with the public and Capitol Hill.
Esper appeared alongside Chairman of the Joint Chiefs of Staff Gen. Joseph Dunford one year since the last on-camera update from a defense secretary. It is also one of Dunford's final public appearances as chairman before retiring in October.
The United States military has a proud history and a great story to tell," Esper said. "It is my commitment to the American people, who entrust us with their sons and daughters, to keep them informed of the work that our soldiers, sailors, airmen, Marines and Department of Defense civilians do every day to keep our nation safe."
Esper said that as part of his first month as secretary, he launched a review to determine how the Pentagon's resources can meet the needs of the National Defense Strategy, "so that everything we do drives toward our strategic objectives." The goal is to find and realign money and manpower to ensure the military can win a fight against advanced adversaries at the same time that it continues to suppress terrorist groups.
The department is also moving forward on getting nominees through the Senate confirmation process, a push that lagged in recent months. Esper said five nominees will have hearings within weeks, while the White House is currently vetting another eight. Barbara Barrett, the Trump administration's pick to be Air Force secretary, has not yet gone before the Senate.
Esper is imploring Capitol Hill to move quickly to pass a defense budget bill by the time the new fiscal year begins on Oct. 1. "As I've expressed to members of the Congress on many occasions, to include yesterday, continuing resolutions harm our military readiness and stifle our modernization efforts," he said.
On the eve of US Space Command's Aug. 29 activation, Esper also called the revived combatant command a "crucial step" toward creating a Space Force in legislation.
"To ensure the protection of America's interests in space, we must apply the necessary focus, energy, and resources to the task, and that is exactly what Space Command will do," he said.