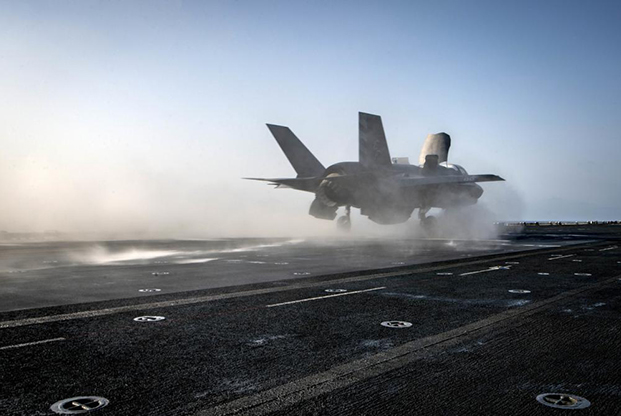 The Joint Program Office grounded the global F-35 fleet last week over fuel tube concerns. Navy photo by MC3 Matthew Freeman.
Eighty percent of operational F-35s have returned to flight following last week's grounding for a fleet-wide engine inspection, the Joint Program Office announced Monday morning.
On Oct. 11, the JPO grounded all F-35s worldwide to inspect fuel tubes in the aircraft's engine following the Sept. 28 crash of a US Marine Corps F-35B in South Carolina. All US services and international partners have since resumed flight, the JPO said in a statement.
The program office is prioritizing fuel tune replacements using its current spare inventory, and engine manufacturer Pratt & Whitney is "rapidly procuring more parts to minimize the overall repair timeline for the remaining jets," the office said in a statement. The current inventory is enough to restore about half of the impacted jets to flight, with the rest are expected to be cleared for flight "over the coming weeks."
Officials would not say specifically how many of the jets were identified to have issues with the fuel tubes. The Air Force would say only that there are "some" that will still be grounded while the "majority" of the F-35As have been cleared for flight. The Joint Program Office said overall it still expects all 91 aircraft to be delivered this year as planned.
The problem is an "isolated incident, which is being addressed and fixed," the program office said. "Safety is our primary goal, and we will continue to take every measure to ensure safe operations while we execute our mission."