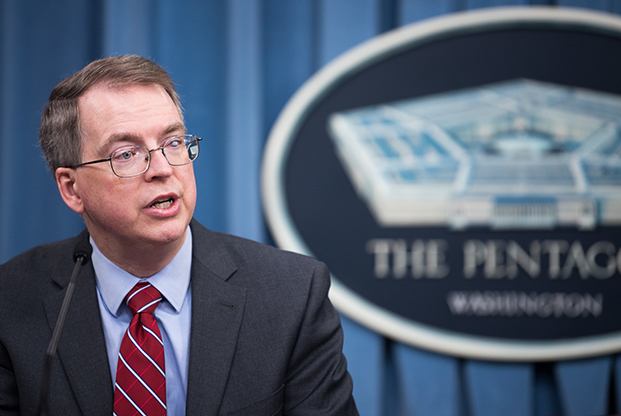 David Norquist, performing the duties of the deputy defense secretary, speaks about the fiscal 2020 defense budget during a press briefing at the Pentagon on March 12, 2019. DOD photo by Army Sgt. Amber Smith.
The Pentagon aims to substantially increase its budget and avoid mandatory spending limits by moving the bulk of its proposed growth into overseas contingency operations wartime funding—an account safe from Congressionally imposed limits. It's a tactic the Defense Department said was imposed by the White House, and one not likely to get support from Capitol Hill.
The White House's $750 billion fiscal 2020 budget request is $34 billion more than the enacted fiscal 2019 appropriations. It includes $545 billion in base defense funding, as well as $66 billion in traditional overseas contingency operations funding for warfighting costs, $9 billion in emergency funding, and $98 billion in costs that have been transferred from the base budget to OCO.
Elaine McCusker, the deputy under secretary of defense (comptroller), told reporters on Tuesday the Pentagon built its budget based on what it needs to enact the National Defense Strategy, placing an emphasis on readiness and modernization, then the Office of Management and Budget dictated how it would be broken up.
"We're submitting our base budget at the Budget Control Act level, so compliance with the law is what we're actually doing," McCusker said. "And the accounts that we have in OCO are accounts that have been funded in full or in part in OCO in the past."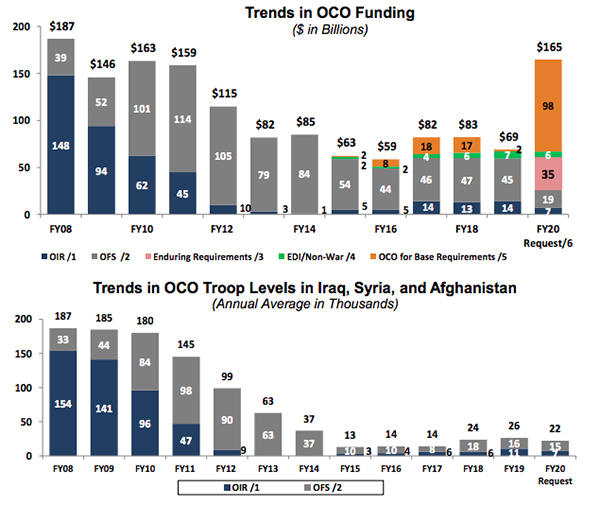 Defense Department graphic
In response to questions on how the shift is a trick to avoid the spirit of the BCA, McCusker said the budget was built with "a significant amount of transparency … so that Congress will have everything that it needs to do its analysis and understand what we've done and why with our OCO budget."
"The OCO budget request receives at least as much scrutiny and oversight from … Congress as our base budget request does," she said.
Lawmakers have already come out against the idea of drastically increasing OCO funding. Rep. Mac Thornberry (R-Texas), the ranking member of the House Armed Services Committee, recently said it's not something "pretty much anybody takes seriously."
Of the $173 billion in total OCO funds, $98 billion includes "defense readiness, readiness enablers, and munitions financed in the OCO budget to comply with the base budget defense caps included in current law." The Budget Control Act of 2011 limits Pentagon base funding to $576 billion for 2020. By comparison, the fiscal 2019 enacted budget included $67.6 billion for traditional OCO war funding, with $1.2 billion in additional funding for those costs typically included in the base budget.
The $66 billion of traditional OCO funds in the 2020 request includes $25.4 billion for direct combat support costs that are not likely going to continue when contingency operations end, and $41.3 billion for enduring in-theater and local costs that will continue once combat operations end. This 2020 level for actual war-fighting costs is down almost $1 billion from 2019.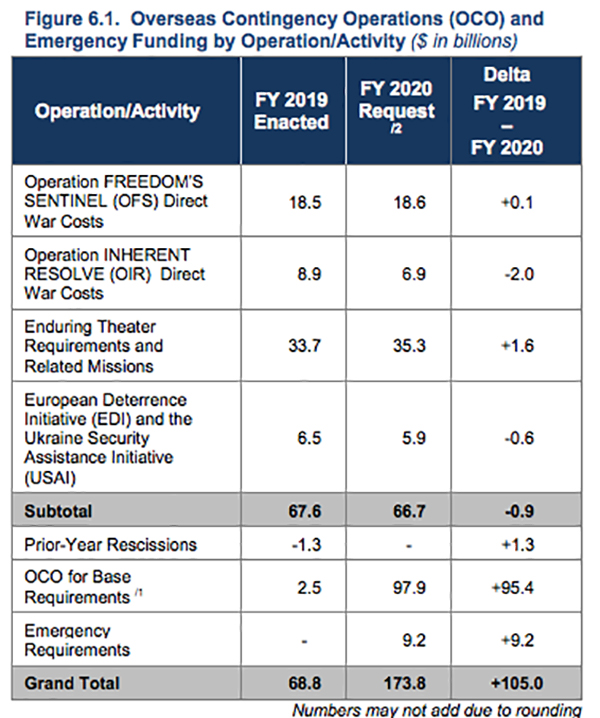 Defense Department graphic
Despite the hefty OCO bump, the Pentagon for the first time in recent years is reducing how much it is spending in Europe. The administration's fiscal 2020 budget request substantially cuts the European Deterrence Initiative for operations, infrastructure, and training across Europe, calling for $5.9 billion in EDI funding, down from 2019's enacted $6.5 billion. However, this amount is still significantly higher than the initial $1 billion provided in 2014 to reassure allies and deter adversaries from further aggression.
McCusker said the change reflects the fact that the military has already changed its posture in the theater and moved equipment into Europe, and "now we're moving into exercises" and doing "other things" in that account.
The proposed $5.9 billion for EDI "supports rotational force deployments," adds more exercises, enhances the "prepositioning of US equipment," improves infrastructure, and builds partner capacity.
"When you look at the EDI in general, it really has five lines of effort," she said. "And only one of those lines of effort is really decreasing in the FY '20 budget, and that's the infrastructure. Because we've really done a lot of that work to this point."
Additionally, the US is continuing to look for "increased burden sharing" from allies in the region, she said.