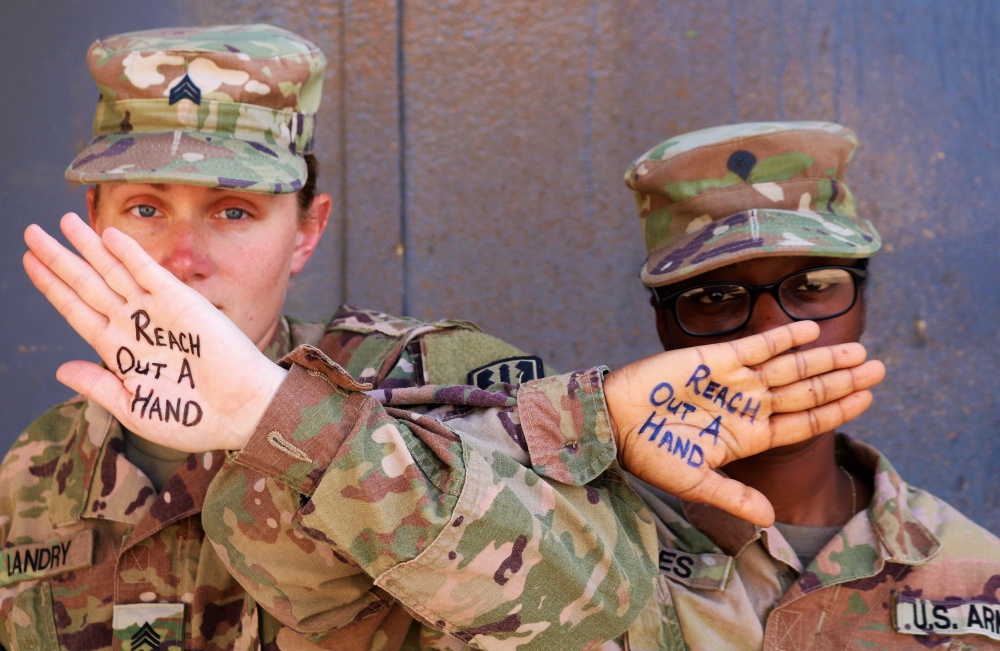 Sgt. Rebecca Landry and Spc. Asia Jones, 529th Support Battalion Soldiers,assist with suicide prevention/intervention photos taken at Camp Taji, Iraq, on June 5, 2019. US Army National Guard photo by Sgt. Roger Jackson?
Editor's Note: This story was updated on Sept. 26, 2019, at 6:58 p.m. EST.
Nearly 190 US military family members killed themselves in 2017, according to the Pentagon's first-ever statistics tracking self-inflicted deaths of those related to service members. The Defense Department released the data Sept. 26 as part of its new Annual Suicide Report.
Defense Secretary Mark Esper called the publication "an important step towards understanding a complex issue that has no easy solution."
"Every person lost to suicide is an absolute tragedy," he tweeted Sept. 26. "We mourn for the families & peers of those lost to this terrible problem."
DOD in October 2018 created a requirement to report military family suicide data on top of information already collected. The new report, intended to complement another annual DOD publication on suicide, comes in the wake of the Air Force's effort to stem its own suicide epidemic. Air Force Chief of Staff Gen. David Goldfein said a force-wide suicide prevention standdown has led to possible steps to combat suicide within its ranks.
Of the family suicides, 123 were spouses—14 percent of whom also served in the military. About three times as many husbands killed themselves than did wives, according to the report, at nearly 30 men and about nine women for each 100,000 people.
Another 63 dependents died as well, the youngest of whom was 12. Biological, foster, and stepchildren, among others, are classified as dependents until age 23, DOD experts told reporters at a Sept. 26 briefing.
Firearms were involved in the deaths of 54 percent of spouses and 51 percent of dependents, according to the report. Another 40 percent of dependents and 20 percent of spouses hanged or asphyxiated themselves. Ten percent of dependents and 26 percent of spouses died by other means, like drugs or alcohol, sharp objects, poisoning, or falling.
The presentation noted that suicide rates among military spouses and dependents were "comparable to or lower than" their counterparts in the broader US population in 2017.
Meanwhile, more service members took their own lives in 2018 than in the previous two years, rising from 482 in 2016 to 511 in 2017, and again to 541 in 2018.
The Active-Duty military saw the most suicides last year, losing 325 members. That marks a 34 percent jump in the five-year period between 2013 and 2018.
The National Guard lost 135 members to suicide last year, followed by the Reserve component at 81 deaths. Both saw a slight uptick from 2016 to 2018, according to the report.
AIR FORCE FINDINGS
Air Force suicides in 2019 are outpacing the service's 2018 total of 80 deaths. One hundred service members had killed themselves as of Sept. 21, Air Force Magazine recently reported.
For each USAF component, the report found:
Active-Duty suicides slightly dropped between 2017 and 2018, at 63 and 60 deaths, respectively.
Reservist suicides fell from 11 in 2017 to three in 2018. However, Air Force Reserve boss Lt. Gen. Richard Scobee said Sept. 18 the component has seen 14 suicides so far in 2019.
The Air National Guard noted an uptick in suicides from 12 to 17 between 2017 and 2018.
Defense Suicide Prevention Office Director Karin Orvis said the report presented two different calendar years' worth of data for service members and their family members because "the effort is to provide the most current data, even if the years aren't comparable."
She noted that suicide rates of service members and their families aren't necessarily comparable because of risk and other factors that make the groups unique. Elizabeth Van Winkle, executive director of the Pentagon's Office of Force Resiliency, added that kind of analysis might be possible in the future once DOD collects more data.
"This is the first time we have these rates for our military families, so we can't trend over time to see if they kind of mirror each other," Van Winkle said. "We'll be able to provide more information as we continue to report these out."
The Veterans Crisis Hotline is available 24 hours a day, seven days a week, for veterans, service members, and their family and friends who need help. Call 800-273-8255 and press 1, text 838255, or visit www.veteranscrisisline.net.
Editor's Note: This story has been updated to correct the spelling of DSPO Director Karin Orvis' first name.