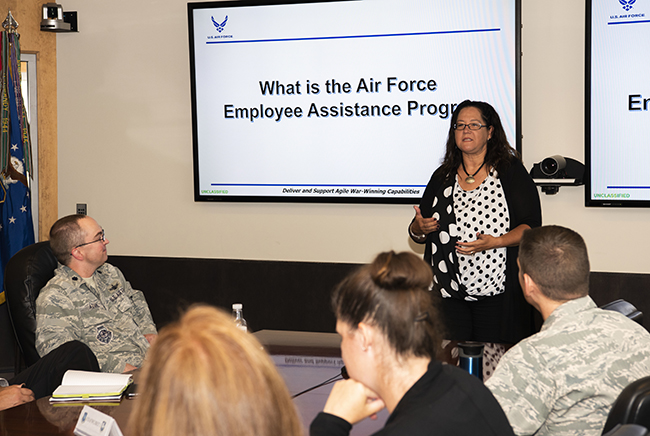 Air Force Employee Assistance Program Manager Danna Plewe briefs personnel on the benefits of the EAP at Schriever AFB, Colo., on Aug. 7, 2019. Air Force photo by SSgt. Matthew Coleman-Foster.
A personal and professional support services program for Defense Department employees is temporarily reinstated for 60 days after it was suspended for about a week due to an unexpected contracting issue, the Pentagon confirmed to Air Force Magazine Sept. 10.
"The health, safety and welfare of our civilian employees is a priority, and DOD is committed to continuing the services provided by the Employee Assistance Program," Pentagon spokeswoman Jessica Maxwell said via email.
EAP is a voluntary, confidential program that provides a wide range of services from counseling to financial and legal services, critical-incident response, and management consultation. It helps employees and managers "work through various life challenges that may adversely affect job performance, health, and personal well-being to optimize an organization's success," according to the Office of Personnel Management.
When the program was put on hold on Sept. 1, civilians who work for the armed forces, defense agencies, and in DOD Field Activities like Washington Headquarters Services lost access to the help EAP provides, she explained. The Pentagon is figuring out a long-term fix during the 60-day extension, which began Sept. 9.
Air Force civilians regained access to the program's services on Sept. 9, Chief Master Sergeant of the Air Force Kaleth Wright told Air Force Magazine via email.
"Our civilian teammates are an essential part of what we do in the Air Force," he said. "It's only right that we take care of our Total Force brothers and sisters by ensuring the programs that support counseling and work-life services."
Every executive branch agency in the federal government has its own version of EAP, which is overseen by the Department of Health and Human Services. DOD's EAP services were previously provided via interagency agreements between an organization within HHS and the Pentagon, Maxwell said.
A Sept. 6 letter sent from HHS to DOD and obtained by Federal News Network said HHS's Federal Occupational Health Service (FOH) is canceling its interagency agreements with the Pentagon.
The HHS Program Support Center "has determined that it does not have the policies and procedures necessary to continue providing FOH services to DOD in fiscal year 2020," the letter stated. "PSC anticipates an orderly termination of the affected (interagency agreements) over the next 60 days."
HHS did not respond to requests for comment about EAP's suspension at the Pentagon.