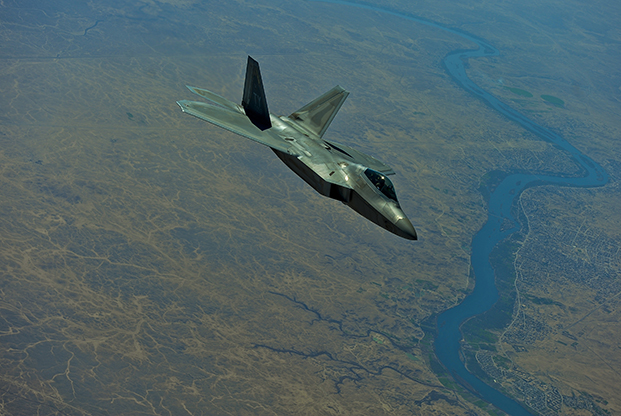 A USAF F-22 from the 380th Air Expeditionary Wing at Al Dhafra AB, United Arab Emirates, flies over Syria after being refueled on March 2. USA?F photo by TSgt. Anthony Nelson.?
?The deployment of advanced Russian surface-to-air missiles to Syria is a "reckless" move that increases tensions, though it will not impact the US' ability to fly and operate in the region, the head of US Central Command said on Thursday.
Russia earlier this week deployed advanced S-300 anti-aircraft missiles to Syria after a Russian Il-20 aircraft was accidentally shot down by Syrian air defenses last month.
Votel said both US forces and the anti-ISIS coalition operation in the area are "very aware of the capabilities of this system and the potential threat that it can pose. We remain vigilant and ready to deal with any threats."
Despite this deployment, US operations will not change, Votel said.
"We've been operating in an environment like this for some time and we expect to continue to do so," he said.
CENTCOM will "pursue methods that have been successful in keeping us safe," including the continued operations of USAF F-22s in the region, which have protected other US assets operating in airspace that could possibly be contested. For example, F-22s escorted B-1B bombers as they conducted the April 14 airstrikes on Syrian chemical weapons production sites. US officials have said they would not send a strike package into Syria without a Raptor escort.
In addition to F-22s, the US Marine Corps has recently deployed a squadron of F-35Bs to the region aboard the USS Essex. One of these fighters made its combat debut striking a target near Afghanistan on Sept. 27.
"We are obviously very proud to have the F-35 in the CENTCOM area, we are very excited that the first combat delivery in Afghanistan took place … by all accounts it performed extraordinarily well," Votel said.
Despite the threat from the S-300 system and a possible deployment of a more advanced S-400 system to Iran, Votel said he has not made an assessment "at this point" to increase the presence of fifth generation aircraft in his area of operations.
"I am very confident in not only the capabilities that are being provided to me by the DOD and the US Air Force, but more importantly in the people we have leading these formations," Votel said. "I'm confident we will be able to continue to pursue our mission in this environment."