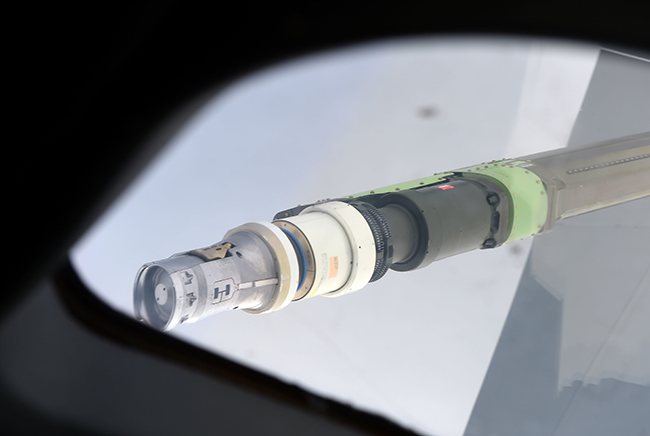 The refueling boom of a KC-46 Pegasus moves towards the universal aerial refueling receptical slipway installation door on top of a C-17 Globemaster III on Feb. 15, 2019 near JB Lewis-McChord, Wash. Air Force photo by Amn. Mikayla Heineck.
The Air Force on Aug. 2 awarded Boeing $55.5 million for continued work on the KC-46's refueling boom to address a "Category 1" deficiency that is limiting the aircraft's ability to refuel certain USAF planes.
The contract covers "system-level hardware and software critical design review of the boom telescope actuator redesign," with work expected to be completed in February 2021, according to a Defense Department announcement.
Currently, the KC-46's boom is not sensitive enough to disengage from slower aircraft like the A-10—meaning that as of now, the Pegasus is not refueling Warthogs.
Boeing is redesigning the boom to meet changes to the Air Force's requirements.
The Air Force is footing the bill to fix the boom, while Boeing is on the hook for other deficiencies with the KC-46's remote vision system.
This story has been updated to clarify that a Category 1 deficiency on the KC-46 keeps it from being able to refuel some planes in the USAF fleet.