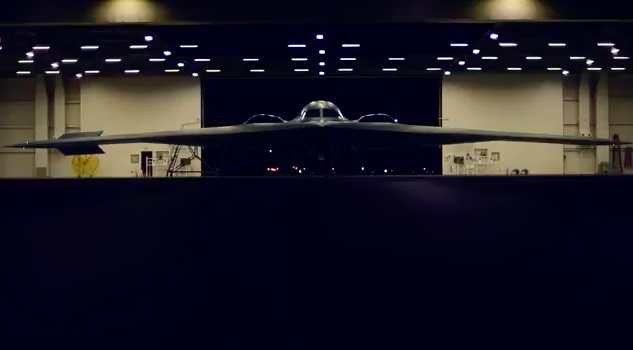 A ?B-2 assigned to Whiteman AFB, Mo., prepares for a 37-hour flight to the US Pacific Command area of operations. US Strategic Command did not say exactly where the bomber flew, but did say it made a stop at Andersen AFB, Guam. Screenshot from STRATCOM video.
A B-2 Spirit flew a "long-range" mission from Whiteman AFB, Mo., nonstop to an undisclosed area of the Pacific in a public show of force in the region.
Video posted by US Strategic Command over the weekend shows a B-2, 88-0329 Spirit of Missouri, taking off in the dark on the night of Oct. 28 "to conduct a long-range mission to the Pacific Command area of responsibility."
STRATCOM declined to provide any specifics about the B-2's route, other than it landed at Andersen AFB, Guam, for an engine-running crew change. The aircraft then flew back to Whiteman, with the entire mission lasting 37 hours.
"This B-2 mission was part of regular USSTRATCOM bomber operations to maintain a high state of readiness and proficiency, and not part of any exercise events," STRATCOM spokesman Maj. Brian Maguire said in a statement.
No allied or partner aircraft participated in the mission. Previous bomber flights in the region included South Korean and Japanese aircraft.
The flight is the latest in a series of public shows of force in the Pacific, especially near the Korean Peninsula, including multiple B-1B Lancer flyovers.
This flight occurred the same day Defense Secretary Jim Mattis and Chairman of the Joint Chiefs Gen. Joseph Dunford met with senior South Korean military officials on ways to strengthen the military alliance between the two counties and deter North Korean provocation.